Navigating Neurodiversity at Work, One Side Quest at a Time
Knowing that every single one of us is different, with a different brain inside each head, is one of the most important things we can do to be more compassionate as a collective. While showing up for work as best as you can is a given, it's how we show up that needs to be understood beyond the superficial level. I'm thankful that I work at a company that has grasped this pretty solidly, but it's rare. This is why it shouldn't be.
But first, what's Neurodiversity?
Neurodiversity, as a label and concept, thankfully falls under the umbrella of terms that mean there's a growing understanding and appreciation for the wide range of cognitive, social, and emotional profiles that human beings can embody. Coined in the late 1990s (yes, that late), the term "neurodiversity" seeks to encompass this range, highlighting the unique variations in how our brains work. In essence, neurodiversity is about recognising, respecting, and embracing how people think, process, and interact with the world, no matter how 'different' their approaches may be considered. Acknowledging the complexity and importance of this is pertinent in the workplace, where individuals of various neurological characteristics come together for a shared purpose.
When we talk about neurodiversity, it's essential to recognise that it spans a vast spectrum. This includes conditions like:
Autism
ADHD
Dyslexia
Dyspraxia
… and many others. Each of these neurological variations has its own strengths and challenges. For instance, an individual with autism might have excellent organisational skills but find social interactions challenging and tiring. Someone with ADHD might be incredibly innovative but struggle with prolonged focus on a single task.
As it goes: no single person is the same. And neurodiverse individuals might present themselves in incredibly nuanced ways. What's important to acknowledge is that no one with the above conditions needs to be fixed, either, because they're not broken to start with.

My thoughts on neurodiversity in the workplace
The internet always provides something relevant to support my personal experience as a neurodiverse person, so I'd be remiss if I didn't reference a meme: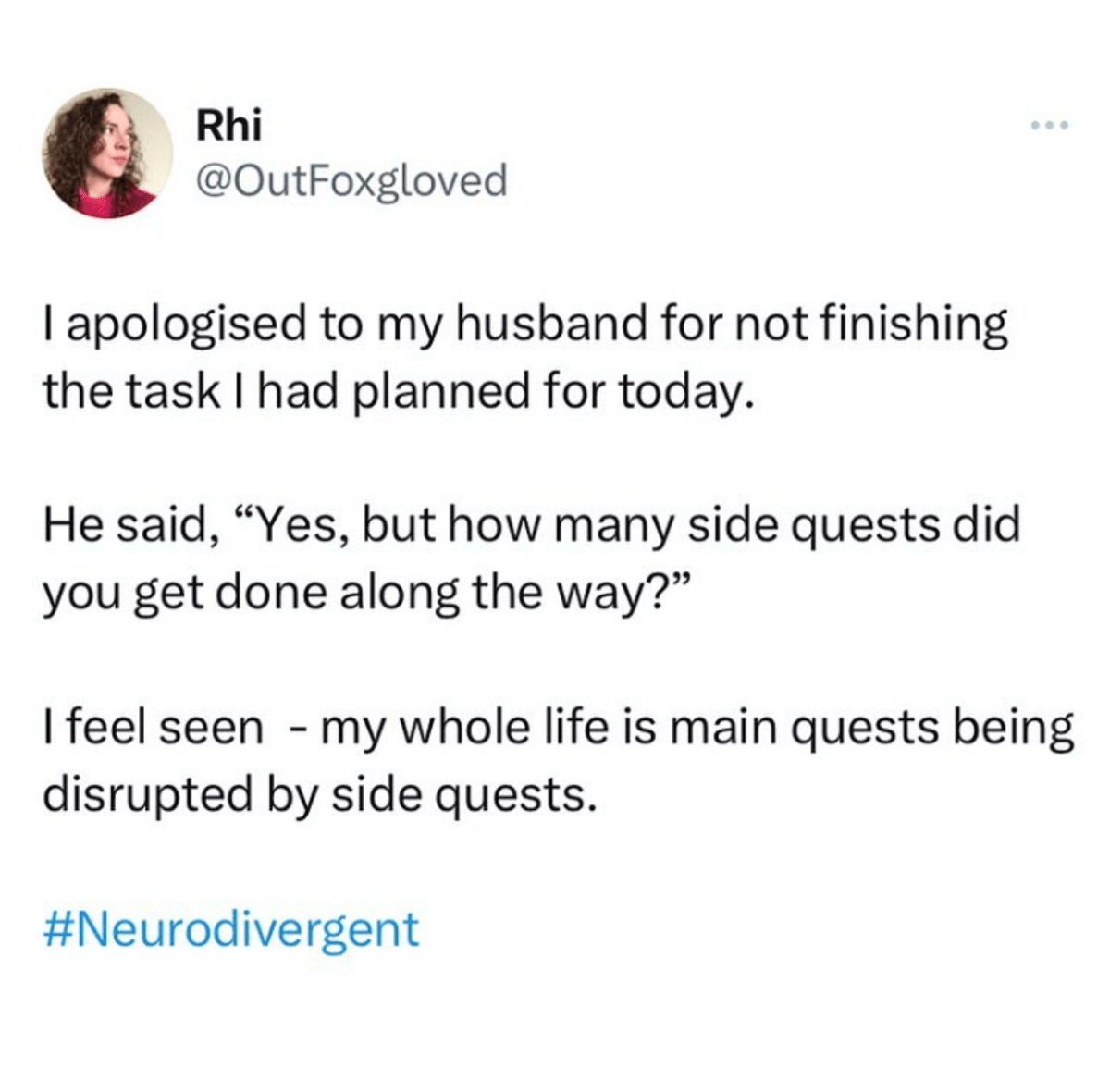 Well, I don't care. You won't get the best out of me if you want to enforce processes and policies that put profit and 'hours worked' ahead of my well-being. Of course, businesses have to make money to survive at the end of the day, but you won't be able to do that if I'm exhausted, struggling to focus, or feeling neglected because I have to deal with the same monotony of prescribed work standards every single day despite my resistance to it. However, while 20% of the world's population is neurodiverse, I understand that the 9-5 grind is what works for some. And that flexible work options are not always a possibility.
When ADD and I first met
Listening to the monotonous drones of my teachers at school put me in an involuntary slumber (like that embarrassing head-nod people do when they fall asleep on planes), and that was when I was first prescribed ADD medication. I was battling to remember things. I struggled to structure my work in a way that was deemed acceptable. My grades were failing because my brain was like a sieve. The medication helped drastically, and a core part of my brain felt like it came alive when I didn't even know it was half asleep.
I've since grown out of these old tendencies and re-trained my brain, supplemented by healthy habits and a lot of structure specific to my needs (and colourful pens and pretty leather notebooks) to operate without medication. I am one of the lucky ones, though — if I weren't immersed in an environment like the one Osome has created, one where our differences in thinking are celebrated and harnessed because there's something extraordinary and unique about what we can each bring to the table, I'd feel like I did in my first job.
Osome has made it clear that Neurodivergent people have so much to offer — out-of-the-box thinking, problem-solving skills, and talents that speak to our mission as a company to be a creative, innovative, and productive team. All while catering to our specific needs to be these different, slightly quirky people in a free, non-judgmental space.
At Osome, we're all on our main quest, but we're not judged when the side quests get in the way. Instead, we're helped to find a way around them without dismissing them entirely.
Core takeaways for businesses wanting to be more inclusive
I think it's important to first debunk and dispel myths and outdated, false truths about neurodiversity as soon as possible. There needs to be an awareness that ADHD individuals are not people sprinting around the office like Duracell bunnies, that ADD individuals just struggle to concentrate, and that dyslexic people just can't spell.
Instead of defining us with ignorant characteristics that only scrape the surface of our daily lives, remind others that neurodiversity also brings something powerful to the organisation and that these unique characteristics should be embraced, not shamed. Create an environment where we feel comfortable to be ourselves and that the way we think is appreciated.
It's also important to address:
Communication styles: Neurodivergent individuals may have different communication needs. A typical office environment might be overwhelming for some, while others might struggle with indirect or ambiguous instructions. I love that I can come to the office and leave whenever works best for me, as long as I understand that I am trusted with my work. Rush hour freaks me out, that's all.
The solution? Foster a culture of open communication. Encourage team members to express their needs and preferences. Simple adjustments, like providing written instructions or allowing noise-cancelling headphones, and simply providing options that don't push people into a corner can make a world of difference.
Physical workspace adjustments: Bright lights, loud noises, or even certain smells can be challenging for neurodivergent individuals.
The solution? If you'd like them in an office, give them options and flexibility in whatever areas make them the most comfortable. Otherwise, let them work from home or cafe or quiet area of the office if that suits them best.
Support and resources: It's one thing to hire neurodivergent individuals, but ensuring they have the resources and support to thrive is equally important. Not many companies get this right.
The solution? Create support groups or host panel sessions that make them feel heard, understood and part of a community. Provide resources like counselling or occupational therapy if needed.
Embracing our dear side-questers at work
Truly embracing neurodiversity means fostering a culture of acceptance, understanding, and a celebration of differences. Implementing solutions is just the start of doing this.
Value everyone's differences — recognise that every employee brings something unique to the workplace, no matter who they are. Take pride in this.
Encourage support as much as possible — the more colleagues feel like they have a co-worker or manager to lean on for support and understanding, the higher the chances of establishing a truly inclusive workplace. Navigate challenges together, take accountability where appropriate, and rejoice in the wins.
Empower all employees, especially those who are neurodivergent, to speak up about their needs, challenges, and strengths. An environment where self-advocacy is valued ensures everyone has the tools and resources to succeed.
Managing work life as a side-quester
When my ADD is at its peak, I feel quite rattled. I word vomit and interrupt colleagues (often with something completely unrelated to the topic at hand, like a dog walking past or someone cleaning a window at the top of a high-rise building while the wind is blowing). Then I feel bad that I come across as inconsiderate. I have impulses that sometimes feel uncontrollable. There are a few things I do to keep myself calm and more collected — they might work for other neurodiverse people, too:
Doing things that make me feel in control and centred: It's weird, but when I'm feeling frazzled and like my mind is all over the place, I clean. I clean a lot. This mainly applies to my work-from-home days (although I know my manager won't judge me if she sees me frantically wiping down the office desks). You don't have to clean like a maniac, but hit pause on work and do the things that make you feel more in control when your mind is spiralling. Then you can sit back at your desk.
Knowing the signs: If you have ADD like me, learn to know yourself and your symptoms as intimately as possible so that work doesn't feel like climbing a mountain daily. Zoning out? Snap out of it, stand up and go to another room for a few minutes. Or go outside for fresh air. Going off on tangents during meetings? Gently guide yourself back to the core of the conversations (I do this by acknowledging that I'm rambling, but don't over-explain myself, followed by something like "what I am trying to get at is that we should definitely have a dedicated nap pod in the office"). Make a statement of the most important thing you're trying to say, and then leave it at that, even if it's hard (obviously, a nap pod is a very serious suggestion).
Setting boundaries: If you've become besties with your neurodiverse condition, you must learn to set boundaries. Know that, what you feel are, the most disruptive elements of your ADD or autism and its anxieties or your dyslexia are left outside your place of rest at the end of the day. Make them 'things', whether it's less-than-ideal communication or rambling or poor focus or subpar time management, and store them away so you can unwind from the day. You can let them back in and deal with them accordingly the next day. Whether it's burying your nose in a book or organising your wardrobe or watching a series, separate your work-self from your rest-self so that you don't feel consumed and overwhelmed by the often exhausting way your unique mind works.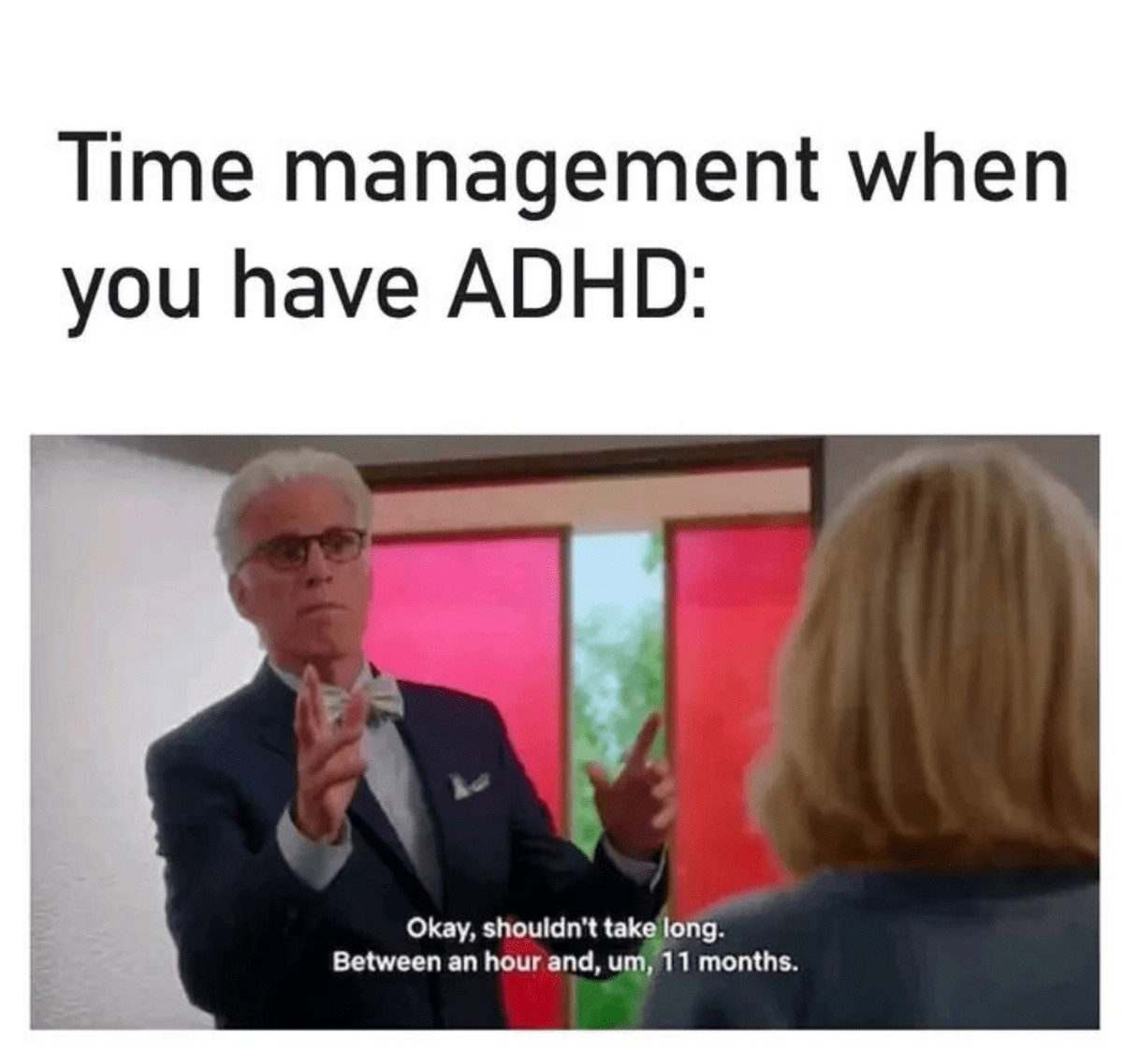 Obviously, this is not a one-size-fits-all approach. I'd encourage you to be proactive about finding a balance so that your mind is not neglected but that your work isn't, either. Be as communicative as possible and don't listen to the voices in your head that make you feel embarrassed or ashamed.
If you're a side-quester, this is for you. You are seen, heard, and valued.